FINALLY, I have literally been putting off writing this post for an outrageously long time. I remember telling the guys I ran this race with that it was going to be my first official blog entry and then here I am 19 days later eventually getting round to it (In my defence I have been doing a lot of work). So, moving on: THE GRIM.
This was my very first off road/traily/muddy/pondy/obstacle race and before I start putting you off by telling you about all the tough stuff you have to do to get round I want to say right from the start that I 100% enjoyed it and would definitely be up for something similar in the future (call me?).
The day started at 6:30am when I woke up, threw on every piece of clothing I own and dragged my poor boyfriend on the train to Aldershot where the race was taking place. Upon arrival  we met up with a uni pal @Ollie_Bayliss (left) and his friend @andy_coh (right) it actually turned out this was to be the first (and furthest) race these two had ever attempted! so needless to say we were all feeling a little apprehensive.
Arrived at the venue to be greeted by this:
You are not mistaken, that is a large pond/mini lake that is completely iced over (and that is definitely me under all those clothes). We are talking people throwing rocks and not managing to break through the thick sheet of ice covering this water, and even better the course barriers stop directly in the middle of one side and re-start directly in the middle of the other side, but hey what can you do.
I made the wise decision to keep absolutely every piece of clothing I had on until the last possible moment and hand over to Alex (my one man support team) just before the race began. However we were also able to drop our bags off in the baggage tent with minimal fuss (we were very early). Saying that, the queue looked way bigger later on so getting there early is a smart move potential grimmers. There was a load of people doing this event in fancy dress and as teams so the start had a really good atmosphere despite the arctic conditions.
THE RACE:
Not knowing what to expect and having lost Ollie and Andy in all the bag dropping off madness I decided to not worry about getting anywhere near the front for the race start. Plus as the race course went straight through a gigantic puddle right near the beginning there was an awful lot of shuffling around the first mile. Things finally got moving and by some miracle I found the boys! There's a lot to be said for having running companions when your going through 8 miles of mud and waist deep icey water so I was very glad to be reunited and we set off as a little pack wondering what the first major obstacle was going to be…
What can only be described as ice bath after ice bath after ice bath soon greeted us. These huge puddles were both deep and mind numbingly freezing with the broken ice washing up the banks of the course and against our legs, and we went through A LOT of these. It took every bit of willpower when emerging from one you were forced straight back into another, if we had not been gifted with the one sunny day in a month of poobag weather I don't think it would have been possible to recover from these ice dips (i was on the verge of tears) so cheers weather gods I owe you one.
The first half of the course seemed to be mainly ice torture interspersed with short sharp hills on muddy terrain through some really beautiful woodland. The second half we got to go through this: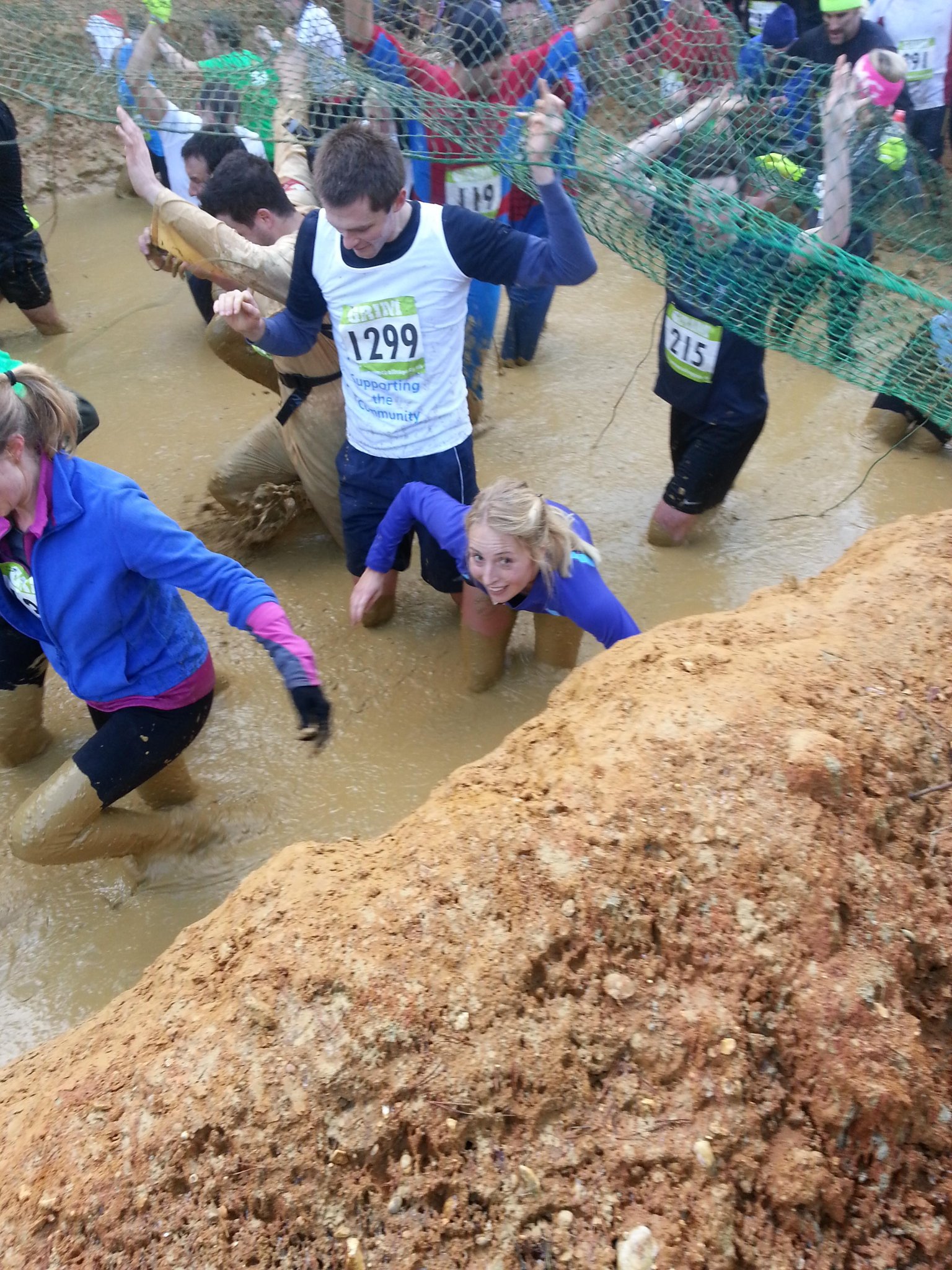 mmmmmm fun. I saw Alex around this point and somehow he had managed to get almost as muddy as me. Also note the shorts (well actually here you cant tell im wearing anything) I initially thought I made a terrible life ruining mistake by wearing said shorts but they actually turned out to be a pretty smart move, allowing my poor freezing legs to dry off in the sun each time I had a 5 minute obstacle break.
The final 5k was a fairly tame in comparison though some pretty forest with a few climbs and minimal pain. By this point Ollie and I were both thoroughly waterlogged and must have been carrying an extra 10 pounds per piece in mud and debris so seeing the 6 mile marker was a relief, nearly there. The last 200m of the race took us through the lake seen at the beginning of this post and I managed to avoid the deepest bit and throw myself over the finish line in a time of 1 hour 26 mins. Not my fastest 8 miles but I was fairly chuffed considering.
Getting changed in the big ladies changing tent was a struggle as my poor numb fingers were not responding to signals from my brain, after a LONG time I managed to wrestle my clothes back on and Alex and I managed to jump in a cab back to the station. Many apologies to Ollie and Andy who we accidentally abandoned at this point after making them lose their place in the donut queue. Sorry Guys! (By the way they both did awesome!).
Wow this post turned out long, congratulations if you have made it to this point!
I am running my first marathon in May 2013 (Edinburgh) and I am planning to use this blog to document progress and use as a bit of a motivational tool to get me through the next few months. If anyone reading this has their own blog, loves running, has any advice or just fancies getting in touch don't hesitate to do so!